Thor saves the day when Dr. Crane doses everyone with nightmare gas in an attempt to, due to the eccentricities of Nexus Invocational powers, summon up physical manifestations of everyone's worst fears. For "science."


bigscaryhammer: Eh?

*Almost immediately begins to ionise the air in his vicinity, glowing as sparks dance around him*

Is Mjolnir going to have to smack a bitch?


onlystraw: No, that won't be necessary..........


bigscaryhammer: Well, let's ask him, shall we?




Survey says...


onlystraw: That's not supposed to happen!

... I was leaving, you see. Out the door. Leaving...


bigscaryhammer: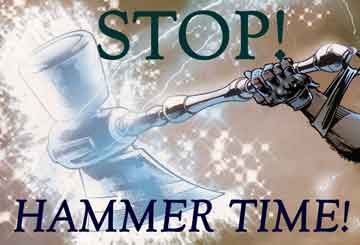 In the name of science!